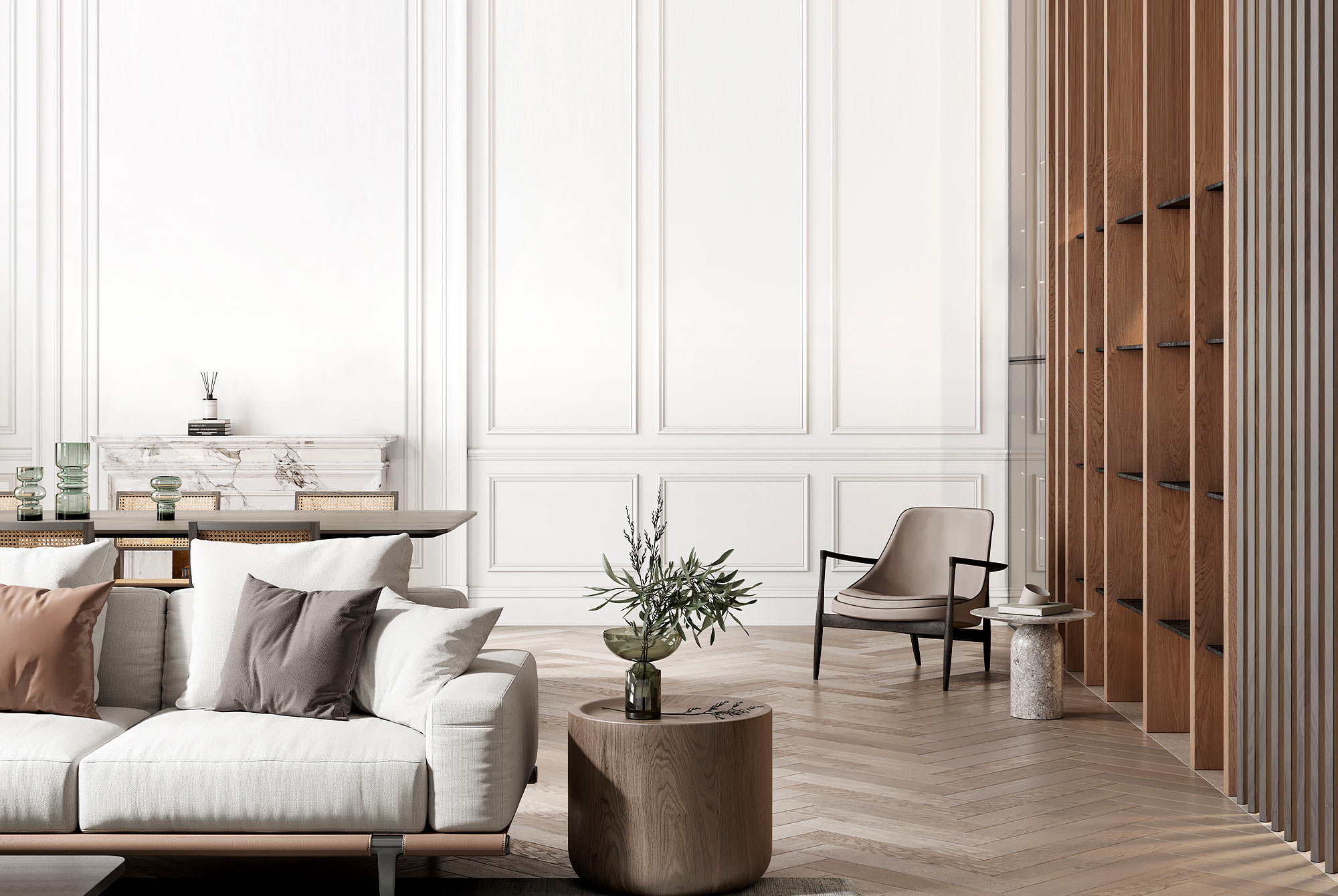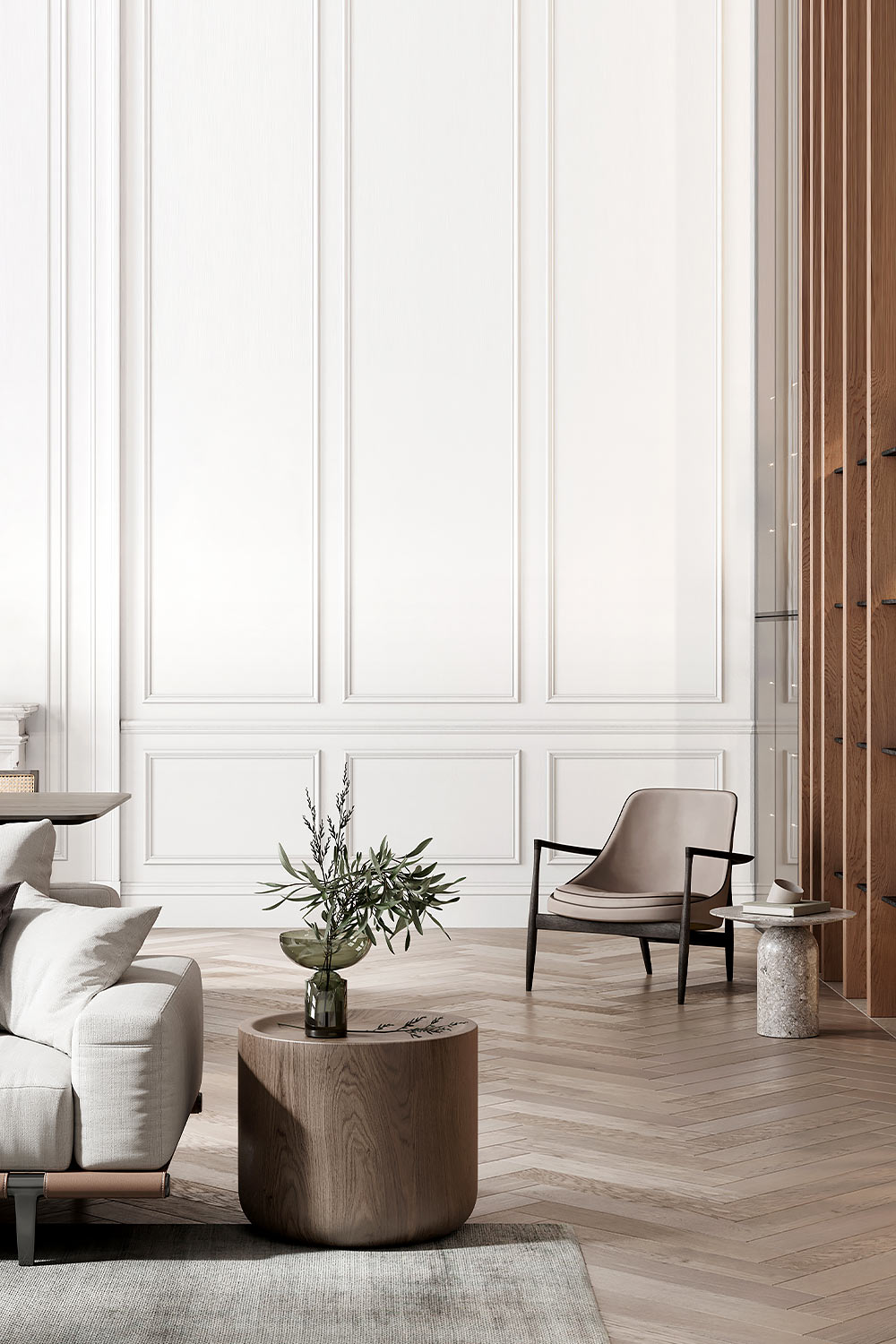 IV Drip Therapy Bar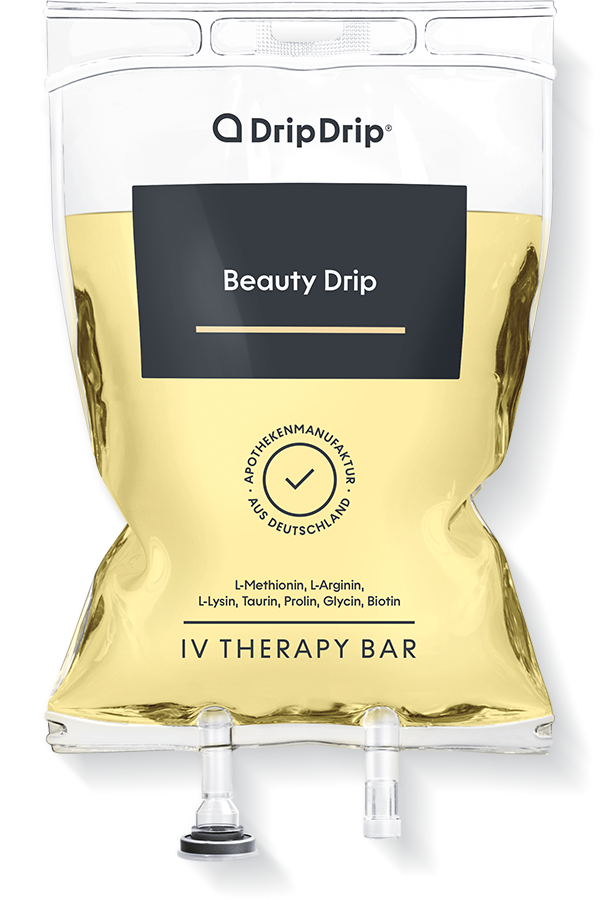 Important nutrients for skin, hair and nails
Full hair, a healthy complexion and strong nails: Our Beauty Drip works from the hair - to the fingertips. The micronutrients it contains can help your skin regain suppleness and firmness and promote a strong hair structure. This makes this Drip the ideal complement to everything you can do in your everyday life for a radiant complexion and beautiful hair: Exercise, a balanced diet and the right cosmetics. Treat yourself to the beauty booster!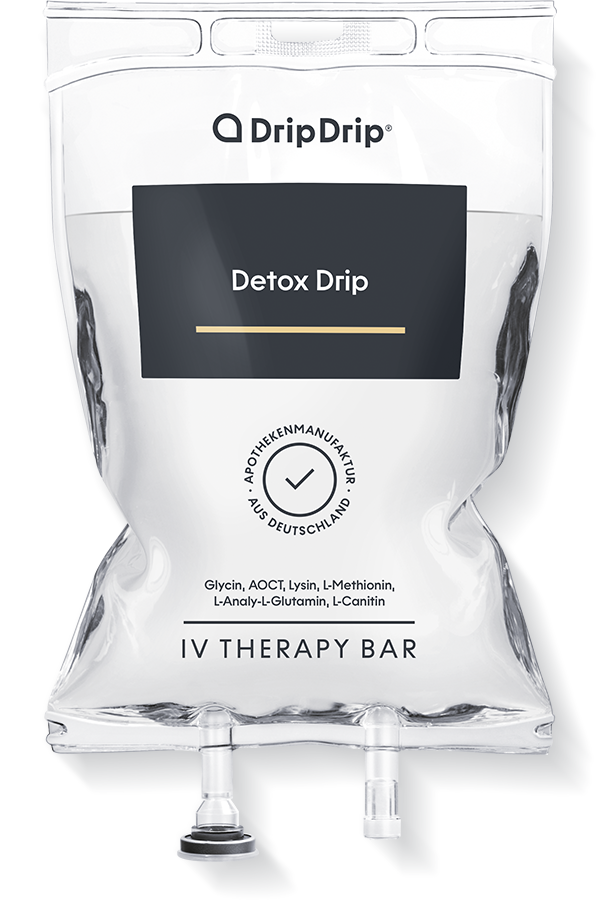 Essential nutrients to support detoxification
For more lightness in life: Detox Drip can help you cleanse the body and rid it of unnecessary baggage. The amino acids and antioxidants in this drip can help your body detoxify and promote the elimination of harmful substances. Feel free!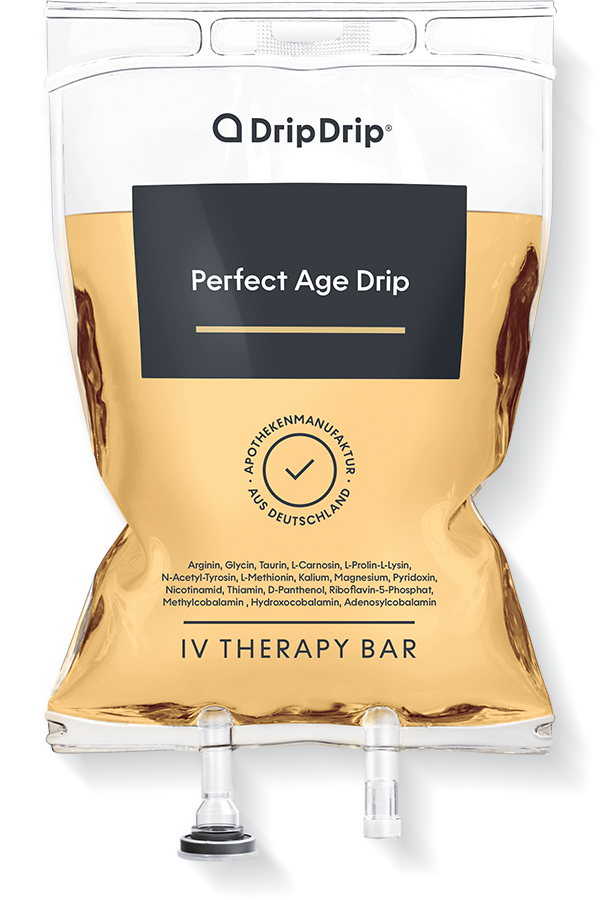 Antioxidants and essential nutrients for a healthy aging process
Mature skin needs special attention to maintain elasticity and firmness. We have the recipe for your extra care: Our Perfect Age Drip contains important antioxidants and micronutrients that can help with a healthy aging process. Among other things, this drip is able to support collagen synthesis as well as cell regeneration.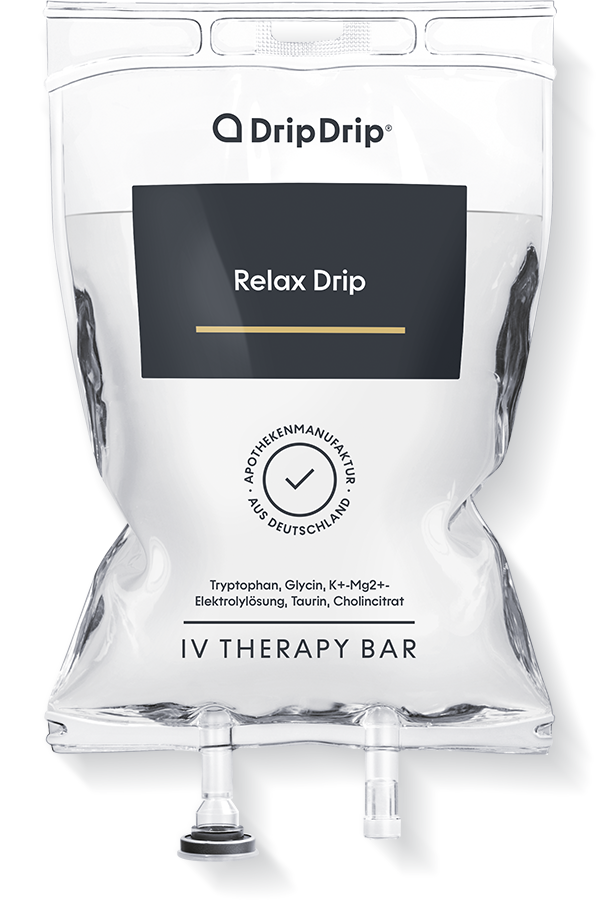 Important nutrients to find peace and escape from everyday life
The "pause button" in hectic everyday life: Relax Drip can create good conditions for physical and mental relaxation. The micronutrients can activate the parasympathetic nervous system - also called the resting nerve - and serve as balancing messengers as well as for the increased production of the happiness hormone serotonin.
Important nutrients for a strong immune system
A strong immune system is essential to fight off pathogens. Factors such as an unbalanced diet, lack of sleep or stress in everyday life put a strain on our immune system and prevent the body from reacting optimally to viruses and bacteria. Our Immune Drip can specifically support the immune system and protect the body from the inside against external influences.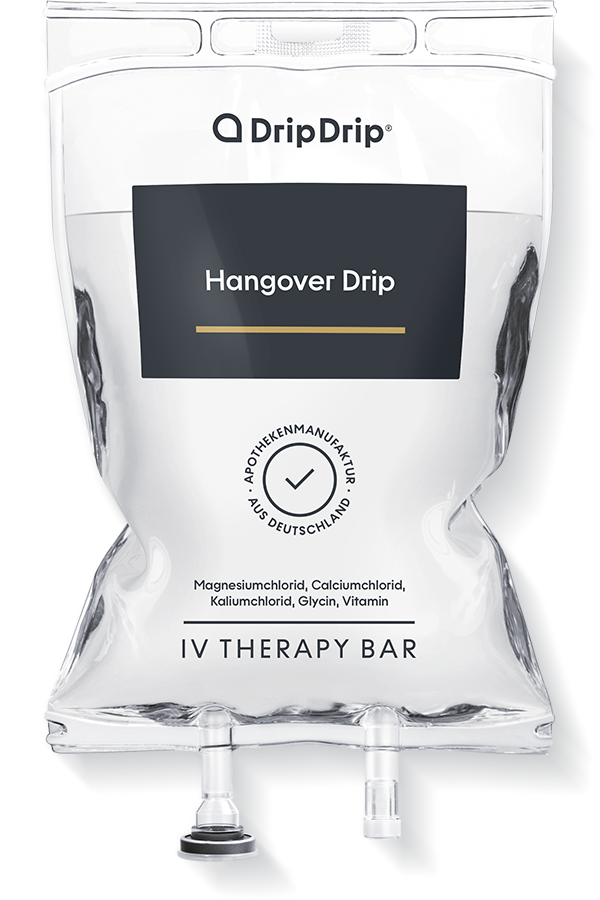 Important nutrients after a long night
When alcohol is consumed, the body loses large amounts of fluids and electrolytes. The Hangover Drip is like a stop at the nutrient filling station: it can help replenish stores, relieve headaches and nausea, and can help regenerate the body holistically.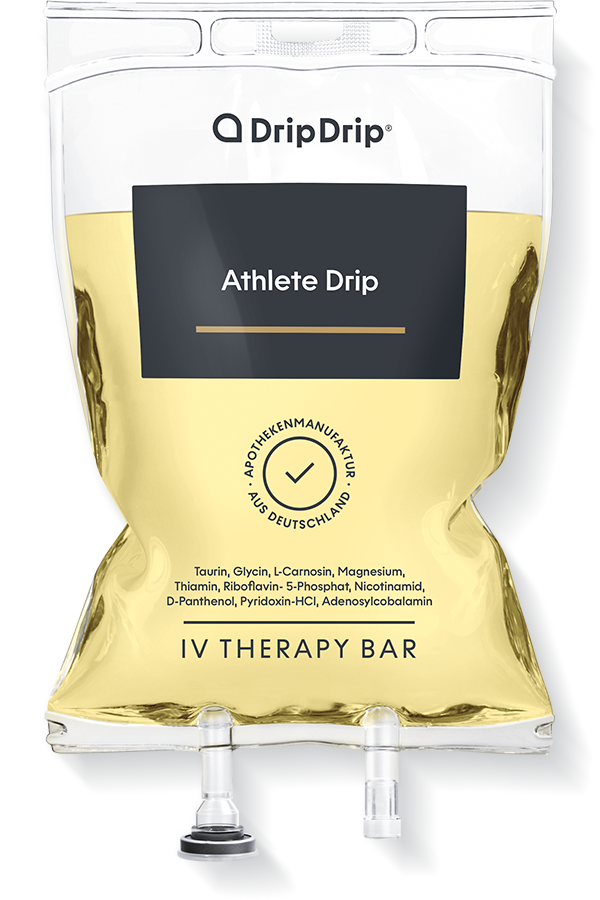 Important nutrients for regeneration and recovery
Fuel for your muscles: If the muscles have to work hard over a long period of time, they often lack the necessary energy. Only if the stores are well filled, we can train persistently and purposefully. This is exactly where our Athlete Drip comes in: With its special composition, this drip can improve oxygen transport and the flow properties of the blood.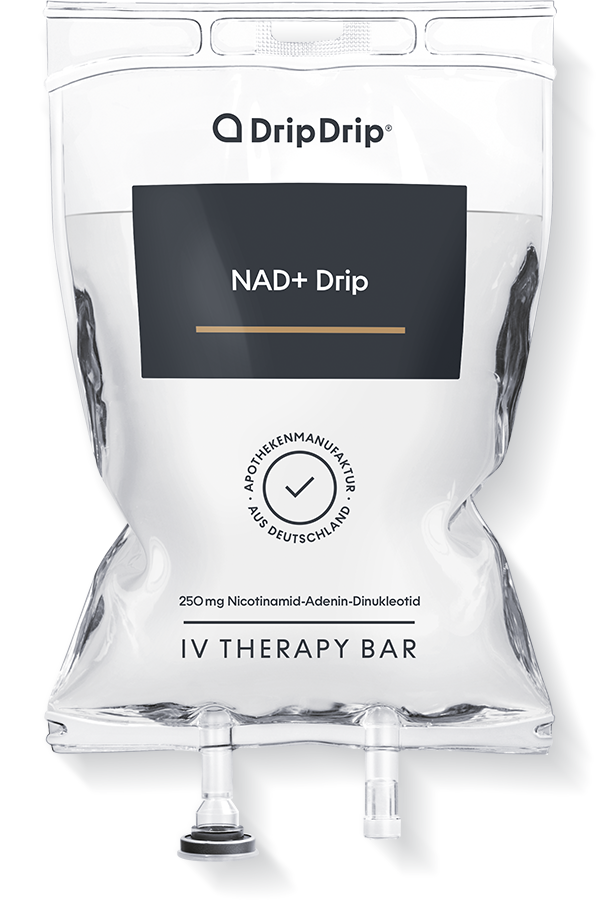 Das Anti-Aging-Molekül zur Förderung des Nachwachsens der Zellen
NAD+ is short for nicotinamide adenine dinucleotide - a coenzyme with high importance for metabolic processes. It can ensure that mitochondria function properly. A deficiency can lead to toxins being broken down more poorly and DNA damage not being repaired. The result can be fatigue and even disease. The NAD+ level decreases with age, but you can counteract this: This drip is able to help bring your NAD+ levels to optimal levels in the shortest amount of time. Please note: The NAD+ Treatment lasts approximately 90-120 minutes and we recommend a two-hour rest period after the treatment to give your body the rest it needs.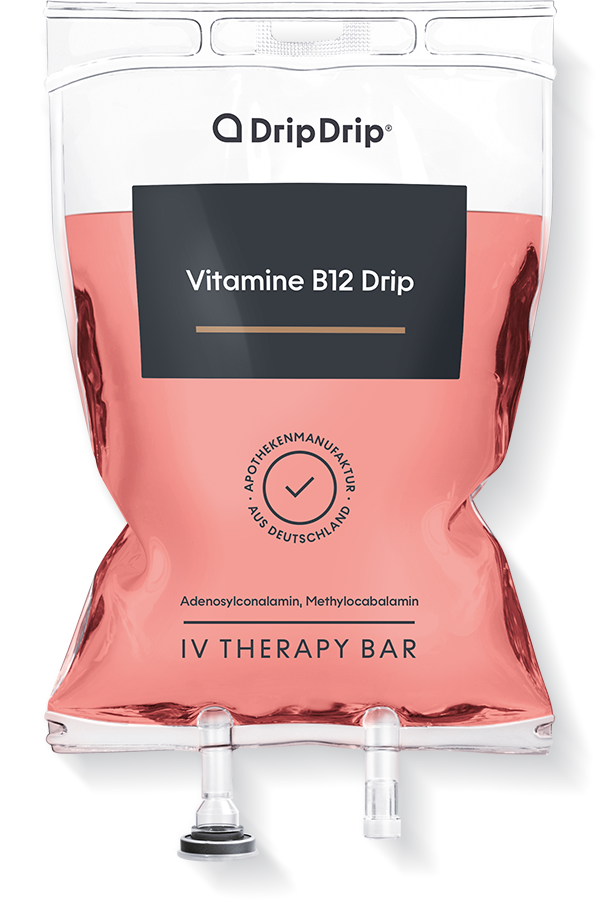 Vitamin B12 Drip for your health
Administering vitamin B12 as an infusion can potentially provide several benefits to the body. Vitamin B12 is an essential vitamin that plays an important role in maintaining a healthy nervous system, red blood cell formation, and DNA synthesis. Infusion of vitamin B12 can potentially help improve energy metabolism, increase overall well-being, and relieve symptoms of B12 deficiency.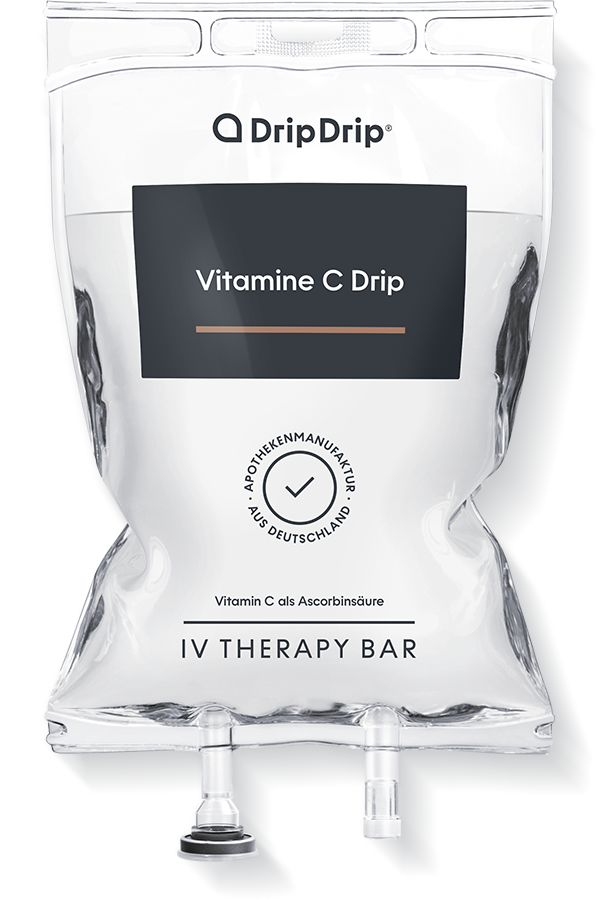 High dose vitamin C for your health
Administering high-dose vitamin C as an infusion can potentially provide several benefits, including boosting the immune system, protecting against oxidative stress, and potentially helping to alleviate allergic reactions.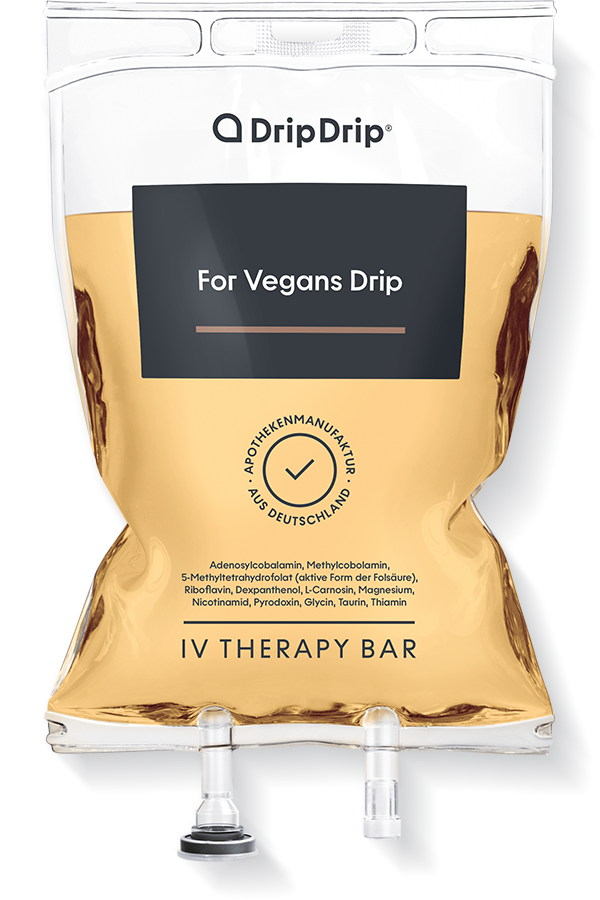 Essential nutrients for people on a vegan diet
Our specially formulated Drip for Vegans provides targeted nutrient support that can help replenish nutrient levels despite an unbalanced diet. By combining B-12 complexes and an ATP base concentrate, this drip can potentially provide an optimal supply of essential nutrients. Vegans can reap the potential benefits of improved nutrient absorption, increased energy, and balanced nutrient levels.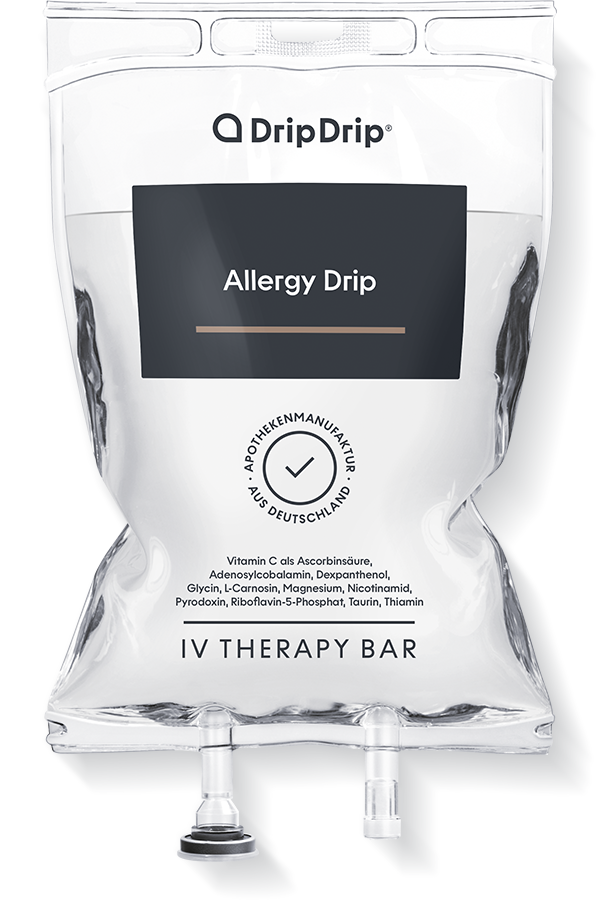 Essential nutrients for allergy sufferers
Our new IV Allergy Drip, specifically for people with hay fever, is an innovative solution that combines high-dose vitamin C and an ATP-based concentrate. Vitamin C plays a crucial role in allergies by acting as an antioxidant that can protect cells from the negative effects of allergic reactions. In addition, it can support the breakdown of histamine and reduce histamine formation.
G.O.A.T (greatest of all time)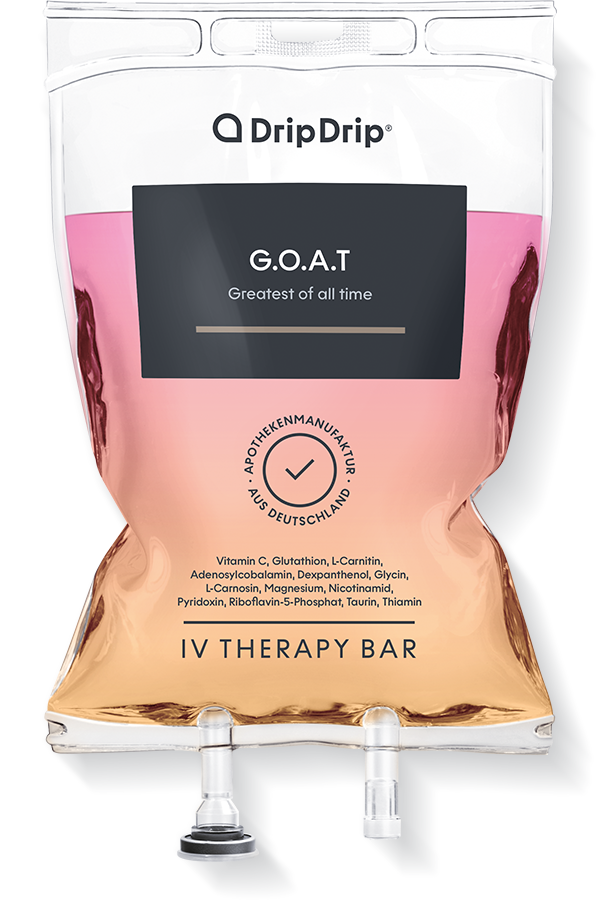 The super booster for high performers
G.O.A.T (greatest of all time) can be the ultimate power booster for high performers. With a high potency blend of 7.5 grams of vitamin C, 1200 mg of glutathione, and a base ATP concentrate consisting of carefully selected amino acids and vitamin B12, G.O.A.T can provide the perfect support for peak performance. Energy, concentration and endurance can be improved by this drip.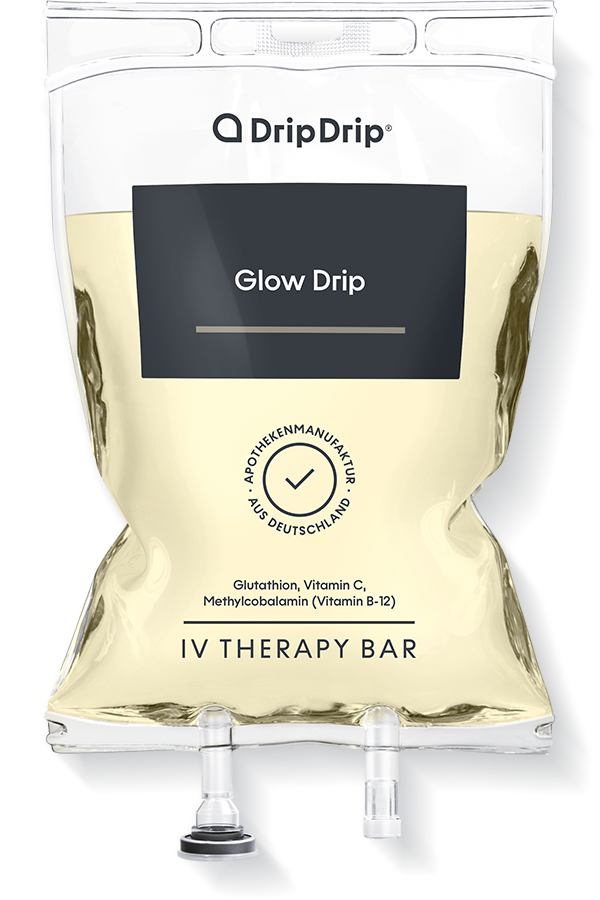 Beauty comes from within!
Treat yourself to the ultimate "Glow Drip" for radiant beauty from the inside out. Our special infusion combines the powerful triad of Glutathione, Vitamin C and Biotin to give a holistic glow. The harmonious interaction of these precious ingredients can help bring out your inner beauty and reveal a radiant glow.
Consultation and selection of the drip on site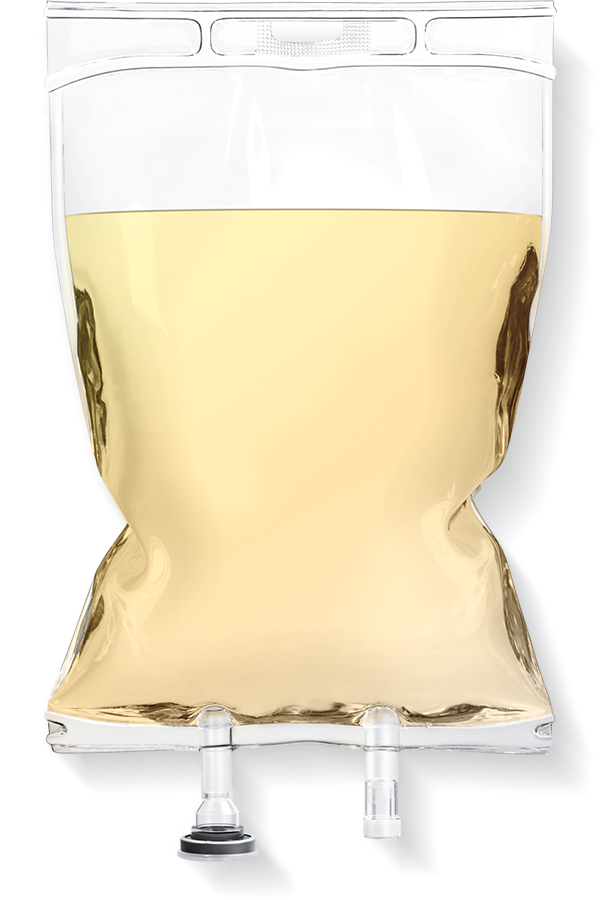 On-site advice and subsequent drip from our experienced specialist staff
Free 15-minute consultation with our experienced staff. Here you will be helped to choose the right drip for you. The basis for this is the anamnesis and your physical and psychological conditions.
Choose your
desired
IV Drip
Book your desired IV-Drip online
advice by
our specialist staff
on site
infusion through
our qualified
specialist staff
Welcome to DripDrip® your IV Therapy Bar in Hamburg
Looking to boost your well-being, strengthen your immune system, or get an extra dose of energy? For these and many other needs, IV Drips can be an ideal option. A vitamin infusion, also known as an IV drip, is a method of administering a combination of water-soluble vitamins, minerals, nutrients, antioxidants and electrolytes intravenously (IV) based on your individual needs. Gently and evenly, the infusion is delivered drop by drop (drip) directly into the bloodstream. Unlike tablets, liquids or powders, which must first take a detour through the gastrointestinal tract, infusions have a 100% absorption rate. So the valuable nutrients work quickly and completely in your body.
How does an IV Drip treatment work at DripDrip?
Do you want to boost your skin's cell generation, accelerate your muscle generation after exercise, or simply switch off and rest? Our IV Drip experienced and certified alternative practitioners will give you an individual and detailed consultation to find out which Drip perfectly suits your current needs. They will perform the treatment while you chill or treat yourself to one of our healthy drinks. Our IV Drip treatment rooms in Hamburg Eppendorf are a place where you can feel comfortable and enjoy.
For your health, beauty and general well-being
Under the motto "elevate your health", the goal of our infusions is to replenish your nutrient stores and strengthen your metabolism in the preventive field. We offer IV infusions and injections in a luxurious setting for health, beauty and overall wellness. No matter what type of IV Drip you are interested in, our medically trained professionals will advise you on the spot at our IV Drip Bar in Hamburg. Of course, you can also book an appointment for your IV Drip directly here via the website.
Is an IV Drip safe?
You want to try an IV Drip but wonder if vitamin infusions are safe? With us, your health is our focus. You can trust that we maintain strict hygiene. Every treatment requires a competent consultation with our certified alternative practitioners.
All our infusions are produced by a renowned German pharmacy manufacture in the laboratory under the strictest quality standards. The trend comes from the USA, but hardly anyone knows that IV Drips are not really new. Nutrient infusions have already been used in medicine for many decades. Used in prevention and therapy, they have a long tradition.